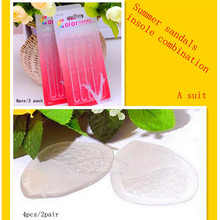 Overview
A heel spur is a pointed bony outgrowth of the bone of the heel (the calcaneus bone). They are attributed to chronic local inflammation at the insertion of soft tissue tendons or fascia in the area. Heel spurs can be located at the back of the heel or under the heel, beneath the sole of the foot. Heel spurs at the back of the heel are frequently associated with inflammation of the Achilles tendon (tendinitis) and cause tenderness and pain at the back of the heel made worse while pushing off the ball of the foot.
Causes
There exists a membrane that covers most of the bone along the heel. When this membrane gets torn repeatedly due to straining of the muscles in the foot, the calcium deposits that lead to heel spurs are more likely to occur.
Symptoms
Most of the time heel spurs present as pain in the region surrounding the spur, which typically increases in intensity after prolonged periods of rest. Patients may not be able to bear weight on the afflicted heel comfortably. Running, walking, or lifting heavy weight may exacerbate the issue.
Diagnosis
A heel spur is often seen on X-ray as a bony protrusion, which can vary in size. However, because a Heel Spur only indicates increased load on the plantar fascia, and not pain, an ultra sound may be required to assess other actual cause of the heel pain such and may include checking to see if the plantar fascia is inflamed or degenerated.
Non Surgical Treatment
Since heel spurs are not an indication of pain themselves unless fractured, treatment is usually aimed at the cause of the pain which in many cases is plantar fasciosis. Treatment of plantar fasciiosis includes; rest until the pain subsides, special stretching exercises and if required orthotics may be prescribed.
Surgical Treatment
Surgery involves releasing a part of the plantar fascia from its insertion in the heel bone, as well as removing the spur. Many times during the procedure, pinched nerves (neuromas), adding to the pain, are found and removed. Often, an inflamed sac of fluid call an accessory or adventitious bursa is found under the heel spur, and it is removed as well. Postoperative recovery is usually a slipper cast and minimal weight bearing for a period of 3-4 weeks. On some occasions, a removable short-leg walking boot is used or a below knee cast applied.